At Sushi Zo our biggest concern is the health and safety of our team, our customers, and the communities of which we are a part.
We want to share with our valued guests some of the steps we are taking to ensure the wellbeing of all these groups.
Of course, all of our team members have undergone training by the health departments of the cities where our restaurants are located. Each of our restaurants enjoys the highest possible health department rating. But even so, during these times, be assured that we are taking extra precautions with cleanliness and hygiene. We are frequently sanitizing surfaces, dishware, silverware and glasses. We are following the guidelines set by local health authorities and the CDC.
We know that this is a difficult and uncertain time for the food and beverage industry. We want to let you know that we are open for business, however we also kindly request that if you feel ill or unwell that you stay home. This helps to ensure that we all stay well.
Thank you for your kind understanding and we look forward to serving you soon.
About
Keizo Seki • Owner/Founder
Keizo Seki was born in Osaka, Japan. His lifelong desire to become a sushi chef led him to Tokyo, where he trained and gained valuable experience and knowledge. In 1991, he moved to Los Angeles where he learned the restaurant industry business and honed his sushi skills. Seki's dream to open a true Edomae-style sushi restaurant came to fruition in 2006 with the opening of the first Sushi Zo restaurant in West Los Angeles.
His unique style and impressive dishes quickly brought him notoriety in Los Angeles restaurant circles, receiving praise from acclaimed critics such as Jonathan Gold. Sushi Zo earned a 29 (out of 30) rating in its first Zagat Guide. Within three short years, Sushi Zo was awarded a prestigious Michelin star.
In 2013, Zo Downtown was opened in Downtown Los Angeles. In 2015, Sushi Zo New York opened in the West Village. A second Manhattan location, Sushi Zo Hanare, opened in Midtown in 2017. Sushi Zo Bangkok was the first location to open outside of the United States in 2016. Sushi Zo Tokyo and Hong Kong followed shortly after in 2017 and 2019, respectively.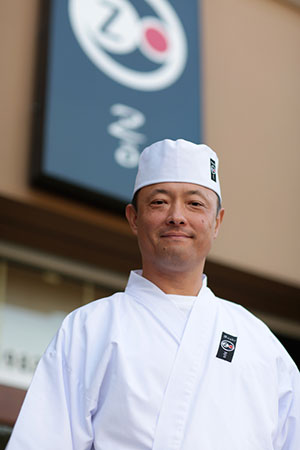 Ittai-kan Sushi Zo Style
The balance between neta (the seafood topping) and shari (sushi rice) is the most important aspect of sushi.
Ittai-kan is when the neta and shari unite in perfect harmony.
Our restaurants feature omakase, a Japanese-style chef's choice meal, which allows us to present our customers with selections that represent the seasons.
Sushi Zo selects only the highest quality and freshest natural ingredients, from our trusted local and worldwide sources.
Our rice is meticulously cooked, seasoned with a unique blend of vinegars and served at body temperature, to create the perfect partner to the neta.
Each day, seafood products are carefully selected, prepared and served at their peak flavor. With many of our nigiri, we use a perfectly matched seasoning, which may include our unique soy sauce, sea salt, yuzu and other ingredients.
Our dishes are presented one at a time, at the perfect moment when flavor, temperature and texture are in ittai-kan. This allows our customers to enjoy the true essence of Sushi Zo.